A new StoryFaces show for this summer's Every Hero Has a Story theme:

My favorite stories to tell to children are traditional hero tales — the original Superhero stories — especially those that feature young or small protagonists, like Li Chi Slays the Dragon, the 2,000 year old tale from China about a brave maiden that saves her village, or Punia and the King of the Sharks, a Hawaiian tale about a boy who battles a shark. The reason Punia is so brave is because he is small — which is a wonderful encouragement to give to kids, that even the small can be heroes, as in Aesop's Fable The Lion and the Mouse. In The Amazing Face, my newest original story, we see an audience member's inner hero come to life on their own face. StoryFaces shows are a surprising combination of storytelling and visual arts that fully engages the entire audience.
Adventure tales about heroes were the original motivational speeches, passed down through generations to inspire listeners to reach for the stars and become the hero in their own lives. For this summer's reading club theme, my Hero Tales! show will include some of my favorite hero and adventure stories — connecting these traditional tales to our comic book Superhero culture. A wide variety of tales are available to suit the age range of your audience, including samurai adventure tales for older kids. If I've been to your library before, I keep a record of what I've told, so that I can always return with new stories for your audience.
See the new video: What Is A StoryFace?
Always new stories. Always exciting. As much fun for adults as for kids.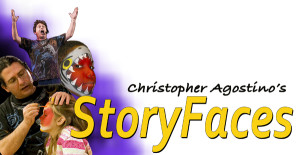 —————————————————-
And for your Summer Reading Club Party or Special Event:
Become Your Own Super Hero

 with Transformation Facepainting
Our Transformation Facepainting can bring any kid's inner hero out, with surprising facepainting designs based on the special things they already do and what they dream of becoming, or maybe we'll invent a brand new super hero just for them. What you don't see at our Become Your Own Super Hero events are spiderman or batman faces — we want every participant to become their own unique hero for a day.

————————————————
And also for this Summer's Hero theme:
   Our BODACIOUS BOOK SHOW:
The show about Reading that everyone loves.
Featuring a special hero theme version of 
The Have You READ It? Game Show
———————————————————
Agostino Arts Theatre has been presenting programs in schools, libraries, theaters and other venues throughout the Tri-State area for nearly 30 years.