by Christopher Agostino    www.agostinoarts.com
I clipped a foto a few years back of two zebras crossing their necks like this, and thought how well it fit the shapes of a woman's shoulders. Once the design is worked out, this is an enjoyable kind of body painting to do, because the painting process is pretty straightforward: block in the white areas for the zebras, add the shading over the white and then the black stripes on top—the stripes which fool the eye and make it all work just like they do on a zebra.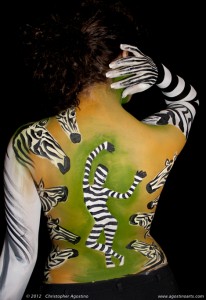 The back design makes play with a photograph of a painted dancer from the Bodies Alive! show at FABAIC a few years back.
To learn more about our programs and performances:  http://www.agostinoarts.com
See my fine art bodypainting at  http://thestorybehindthefaces.com/body-painting/
Related articles