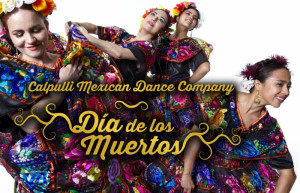 ————————
Our artist Miguel Cossio will be doing makeup for for
  Calpulli Mexican Dance Company — Dia de los Muertos Performance on Saturday, November 1 
at the
 City College Center for the Arts' Aaron Davis Hall, NYC 
–  2:00 pm and 7:00 pm – 
ticket information
————————
Here's more information from the Calpulli company promotional materials:
————————
Music and dance transcend
Música y danza trascienden
Dancers and musicians in Calpulli Mexican Dance Company's "
Dia de los muertos
" capture humor, passion, longing, and hope. They create celebrations of life in which 
Los enamorados,
Skeleto,
 and La Catrina partake. Dancers are often the pawns of these characters, being easily manipulated for a purpose. A tapestry of live music is the background of the stories traveling from the serenades of the Mariachi, to the heart-pounding rhythms of the Aztec, to the brass bands of northern Mexico.
The performances will feature the debut of the following:
the suite "

Hermoso Oaxaca

" (

Beautiful Oaxaca

) choreographed by Alberto Lopez & Noemy Hernandez capturing a glimpse of the world-famous Guelaguetza

the piece "

El jarabillo"

 choreographed by Roberto Lara explores the stylized dances from Michoacan

a reprise of 

"El regreso/ petalos" (The Return/ Petals)

a contemporary piece depicting the welcoming of a loved one
Bailarines y músicos en "Día de los Muertos" de Calpulli Danza Mexicana captan el humor, la pasión, el anhelo, y la esperanza. Crean celebraciones de la vida en la que Los enamorados, Skeleto, y La Catrina participan. Los bailarines suelen ser los peones de estos personajes, siendo fáciles de manipular para un propósito. Un tapiz de la música en vivo es el trasfondo de las historias que viajan desde las serenatas de mariachi, a los ritmos palpitantes de los aztecas, y las bandas de viento del norte de México.
Las actuaciones contarán con el debut de:
un cuadro "Hermoso Oaxaca" con coreografía de Alberto Lopez y Noemy Hernandez captando un vistazo de la mundialmente famosa Guelaguetza
la pieza "El jarabillo" con coreografía de Roberto Lara explora las danzas estilizadas de Michoacán
una nueva version de "El Regreso / petalos" una pieza contemporanea que representa la acogida de un ser querido.
Next week meet/ La proxima semana conozca a
La Catrina