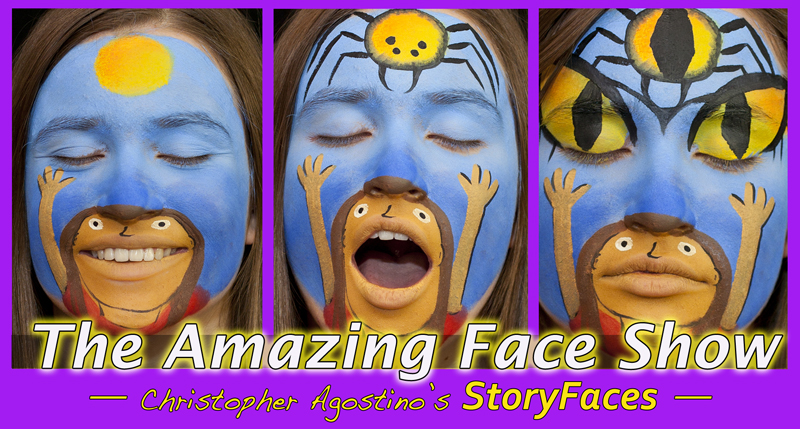 A one-of-a-kind entertainment for kids, schools, parties and family events.
The Amazing Face Show features a special selection of fun and surprising StoryFaces — Christopher Agostino's innovative performance art that brings stories to life on the faces of the audience — featuring exciting tales from around the world and original stories to delight any age audience, large or small. Tales such as:
— Tiddalik the Great — the comic adventure of a gigantic frog, a Dreamtime tale from Australia
— Raiko vs. the Goblin Earth Spider — samurai vs. monsters in Medieval Japan
— The Miller, his Son and their Donkey — a 2,000 year old existential dilemma from Aesop
— The Three Bowls — an extravaganza of absurd and impossible transformations
and
— The Amazing Face Story — proving that each of us can be anything we imagine and all of us can become heroes on our own face
You will be amazed! 
To schedule a show CONTACT US: info@agostinoarts.com    or  call 516-771-8086
Printable pdf flyer for The Amazing Face Show:  StoryFaces_AmazingFaceShow_agostinoarts
Christopher Agostino's StoryFaces performances are a unique fusion of theatrical storytelling and his remarkable painted faces. With a growing repertoire of 50 tales, Christopher can craft a show to suit any audience — children, teens, adults or families — and he can return again and again with new stories to tell. Shows run 45 – 60 minutes, and are completely self-contained, including a portable sound system for audiences of up to 300.
Christopher Agostino has appeared on the NBC Today Show and the CBS Early Show and performed for thousands of schools, libraries, events and festivals over a 30 year career. 
In 2013, StoryFaces was featured in the opening presentation of the National Storytelling Conference.
Learn about all of our programs at: agostinoarts.com
Related articles